The State Envirothon was held at Camp Comeca on Wed., April 27th. 2 teams qualified to compete in the event. Each team completed 6 tests and also did a presentation on reducing food waste. Loup City Team #2 (Ellie, Ella, Chase, Dylan, and Landri) placed 1st on the Policy test.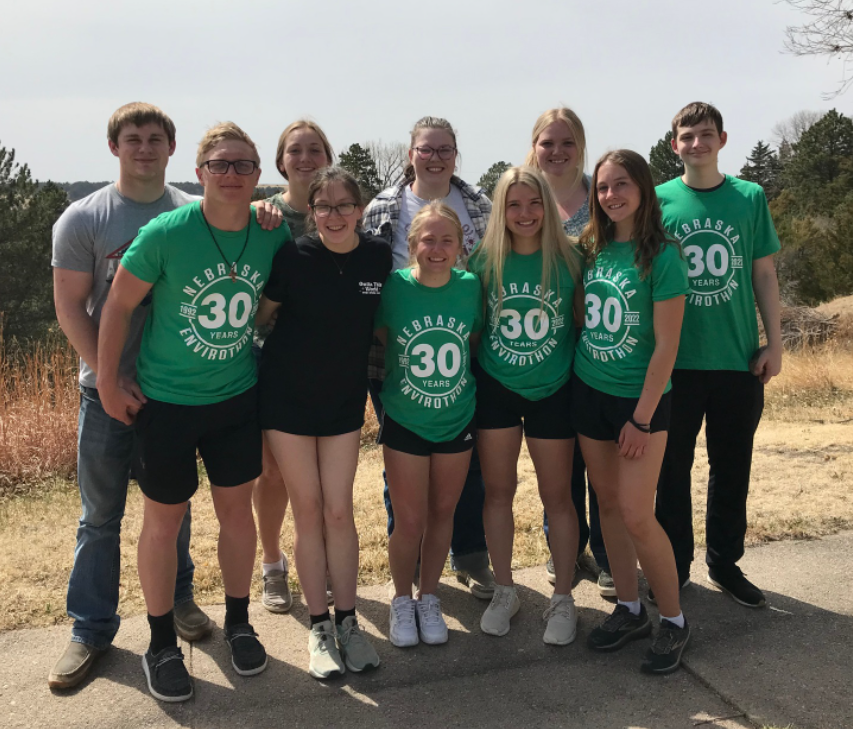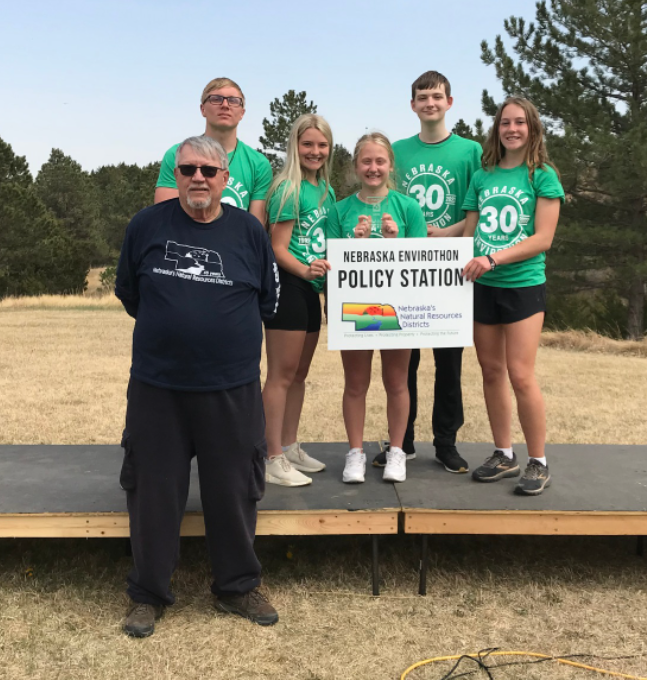 This summer we are excited to offer all Loup City Public Schools kindergarten through 6th grade students the opportunity to participate in our summer program! Our summer sessions will begin on Monday, June 6th and end on Friday, July 1st. The program will begin in the mornings at 8:30 AM and end at 11:30 AM. The Summer Food Program will serve breakfast from 7:30am until 8:30am. Lunch will be served from 11:30am until 12:30pm. Summer Program students are encouraged to take advantage of both breakfast and lunch. Each day will consist of a math lesson, a reading lesson and an explore class. Explore classes will last one week, with students selecting a new class each week. The mission of our summer program is to provide a fun approach to improving math and reading skills, while also introducing students to activities geared toward piquing their curiosity in arts and crafts, music, science experiments, physical activities and learning games. Please be aware that students will be scheduled into reading and math sessions based on what they will need to help them improve their skills and not necessarily by their grade level. If you have further questions, please do not hesitate to contact the school. Applications will be coming home soon!

Congratulations to the following Arcadia-Loup City student-athletes who have qualified for the Central Nebraska Track Championships (CNTC) this coming Monday April 25th at Grand Island Northwest High School. Boys 3200m: Ty Greenland Boys Pole Vault: Kaden Reeves Boys 4x400 Relay: Tanner Lindbloom, Vince Eurek, Kaden Reeves, Chase Stieb Boys 4x800 Relay: Jarrod Gappa, Vince Eurek, Tanner Lindbloom, Brayden Phillips Girls Shot Put: Jessica Stieb Girls Discus: Jessica Stieb Girls 800m: Landri Loos Girls 3200m: Jessi Heyen Girls 4x100 Relay: Nicole Chilewski, Tatum Kapustka, Halie Kaslon, Sami Augustyn Girls 4x800 Relay: Tatum Kapustka, Eva Jaixen, Jessi Heyen, Landri Loos Live Results:
http://liveresults.huskytiming.com/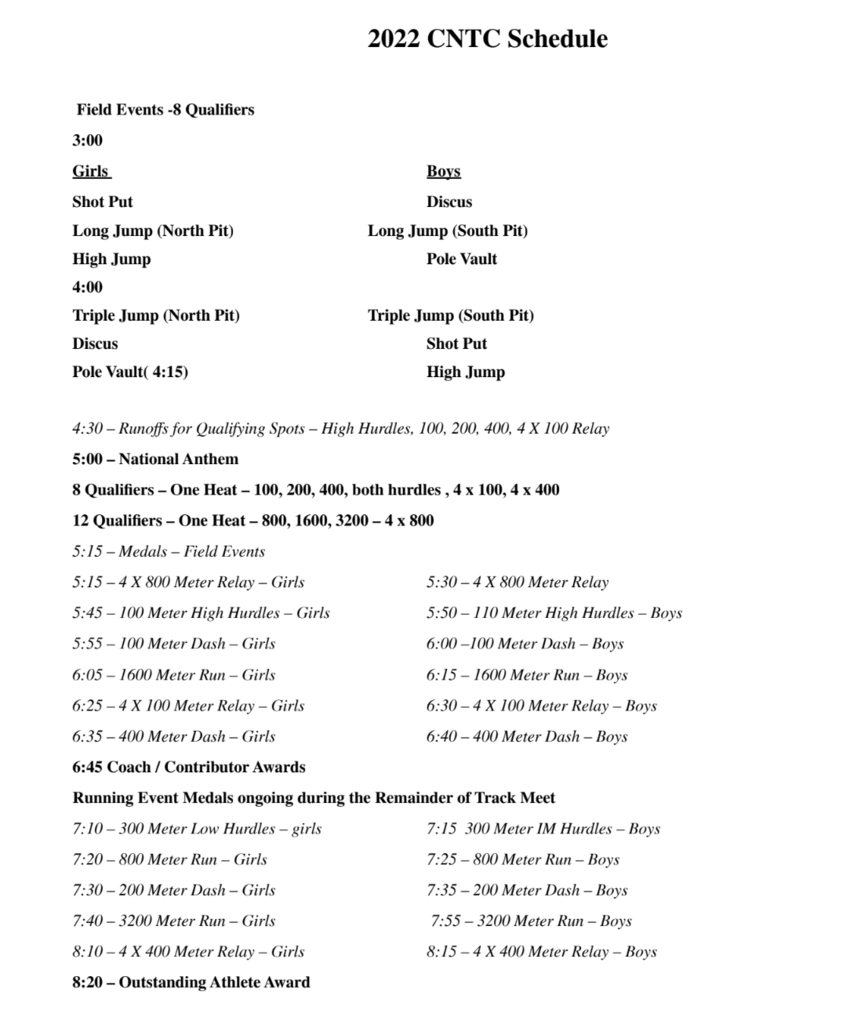 Kindergarteners on their traditional classroom egg hunt. All K-6 students will have the opportunity to participate in an egg hunt (younger students) or scavenger hunt (older students) before the school day is over today.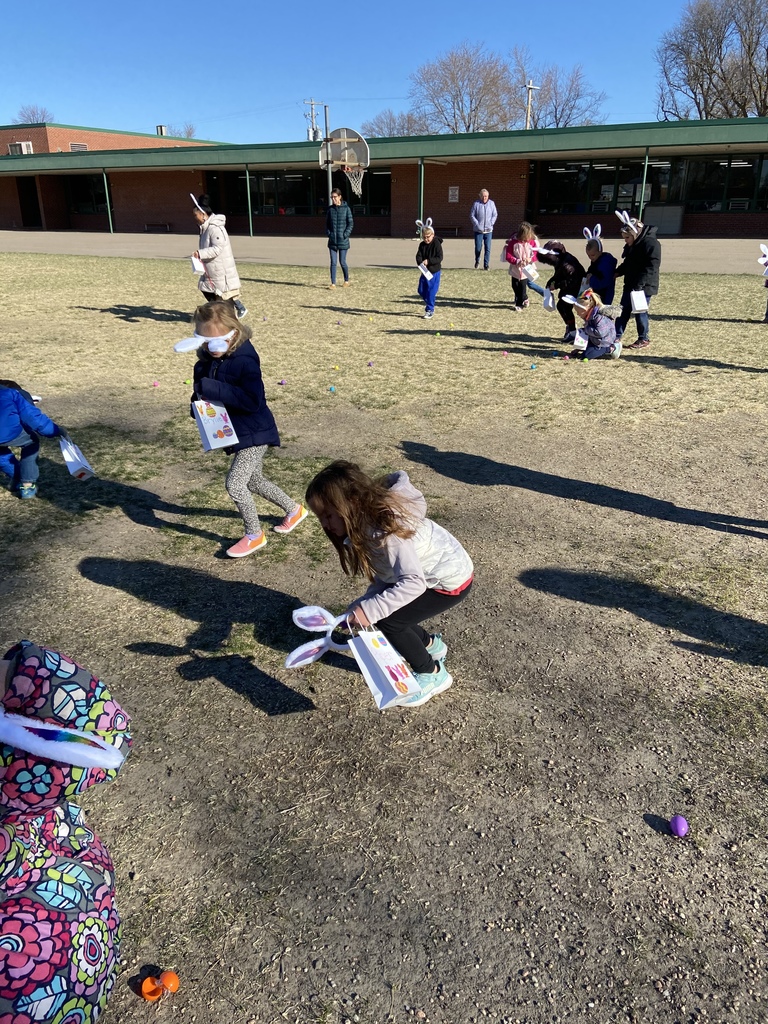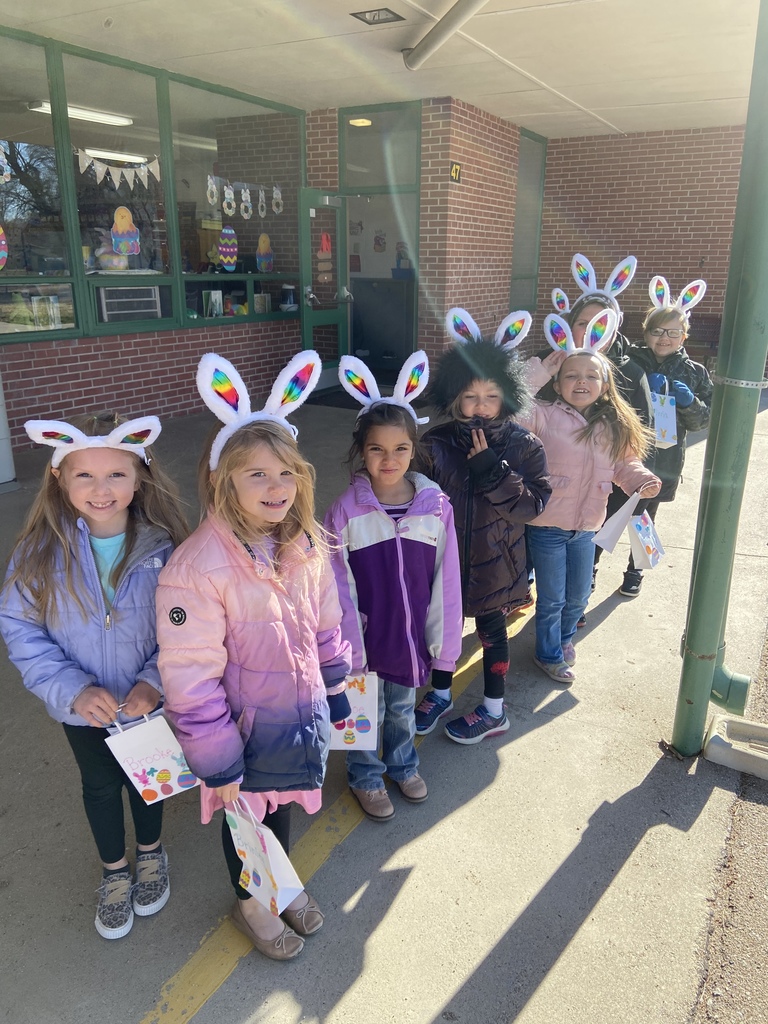 Congratulations Mrs. Kim Henry! NEBRASKA EDUCATORS NOMINATED FOR NATIONAL HISTORY DAY® TEACHER OF THE YEAR April 11, 2022, College Park, MD–Three teachers from Nebraska have been nominated for the Patricia Behring Teacher of the Year award. Mrs. Mindy Podraza and Mrs. Lynn Behounek, teachers at Ralston Middle School in Ralston, Nebraska, have been co nominated in the junior division of the National History Day (NHD) National Contest. Mrs. Kimberly Henry, a teacher at Loup City Public School in Loup City, Nebraska, has been nominated in the senior division of the National History Day (NHD) National Contest. The award is sponsored by Patricia Behring in recognition of the pivotal role teachers play in the lives of students. Each of the 58 National History Day affiliates may nominate one high school and one middle school teacher for this award, and Mrs. Podraza, Mrs. Behounek, and Mrs. Henry are this year's nominees from Nebraska. Every nominee for the $10,000 award is a teacher who demonstrates a commitment to engaging students in historical learning through the innovative use of primary sources, implementation of active learning strategies to foster historical thinking skills, and participation in the National History Day Contest. All nominees will receive $500 as a result of their nominations. "This award recognizes the very best educators from across the nation and beyond," said National History Day Executive Director Dr. Cathy Gorn. "These educators are leaders and innovators in the teaching of history, and we are all the more impressed because of the extended difficult teaching circumstances due to the pandemic during the last year. I wish to congratulate Mrs. Podraza, Mrs. Behounek, and Mrs. Henry on their well-deserved nominations." The national winner will be selected by a committee of experienced teachers and historians, and announced on Saturday, June 18, 2022, at the National History Day National Contest Awards Ceremony to be held virtually due to COVID-19. Nominees' work must clearly illustrate the development and use of creative teaching methods that engage students in history, and help them make exciting discoveries about the past. About National History Day® (NHD): NHD is a non-profit organization based in College Park, Maryland, that seeks to improve the teaching and learning of history. The National History Day Contest was established in 1974 and currently engages more than half a million students every year in conducting original research on historical topics of interest. Students present their research as a documentary, exhibit, paper, performance, or website. Projects compete first at the local and affiliate levels, where the top entries are invited to the National Contest at the University of Maryland at College Park. NHD is sponsored in part by, HISTORY®, the National Endowment for the Humanities, the National Park Service, Southwest Airlines, the Crown Family Foundation, The Better Angels Society, the Pritzker Military Museum & Library and the Diana Davis Spencer Foundation. For more information, visit nhd.org. #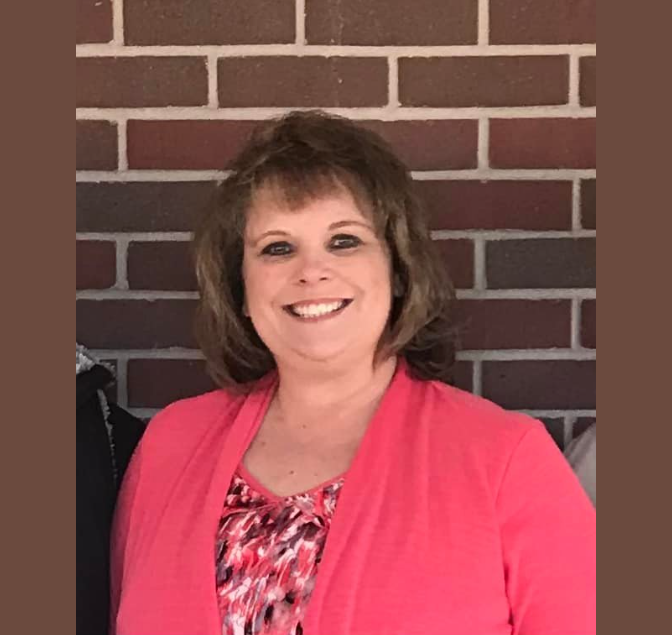 ALC Track Update: South Loup Meet rescheduled to Monday, April 11th at 10am.

The LC 2nd- 6th grade had the opportunity to visit Rowe Sanctuary near Gibbon and learn about the unique and amazing migration of the Sandhill cranes. These birds spend several weeks every year along the Platte River preparing for the rest of their migration north.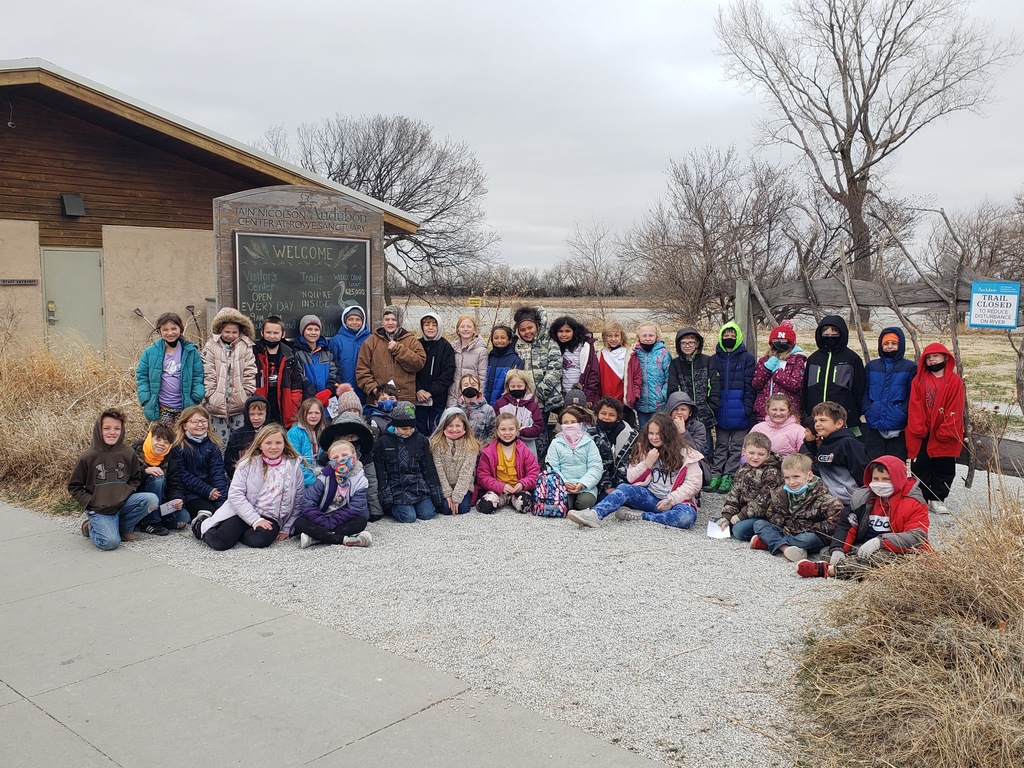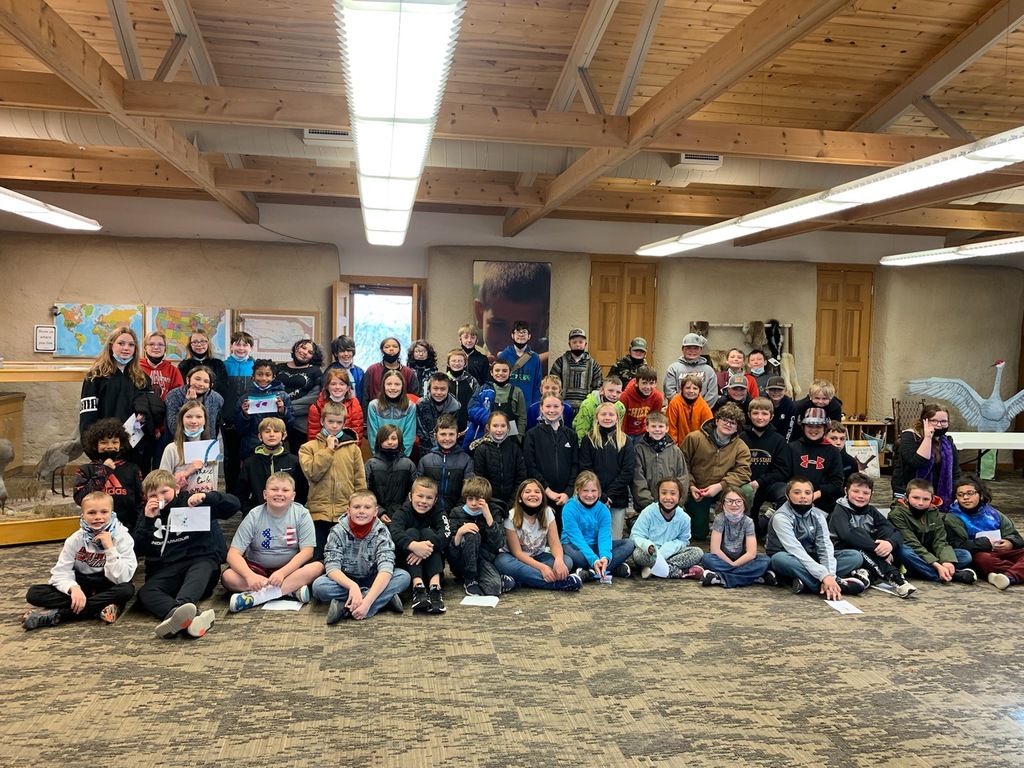 Due to our inability to hire substitute teachers and the large number of students out of school for the ALC Track meet, we will be dismissing all 7th - 12th graders after the last lunch at 1:08pm this Thursday, March 24, 2022. Elementary K-6 will be in session and buses will run at the regular time. ASP will also run their regular schedule.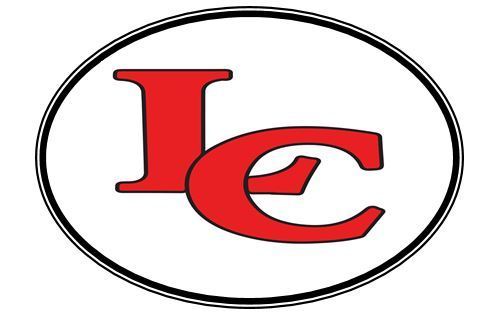 The Make-A-Wish Dodgeball Tournament is scheduled for Monday March 28th at 6:30pm. This is sponsored by the 7th grade class. Ages to compete are 7th grade to adult. Get your teams ready and come out to support a great cause!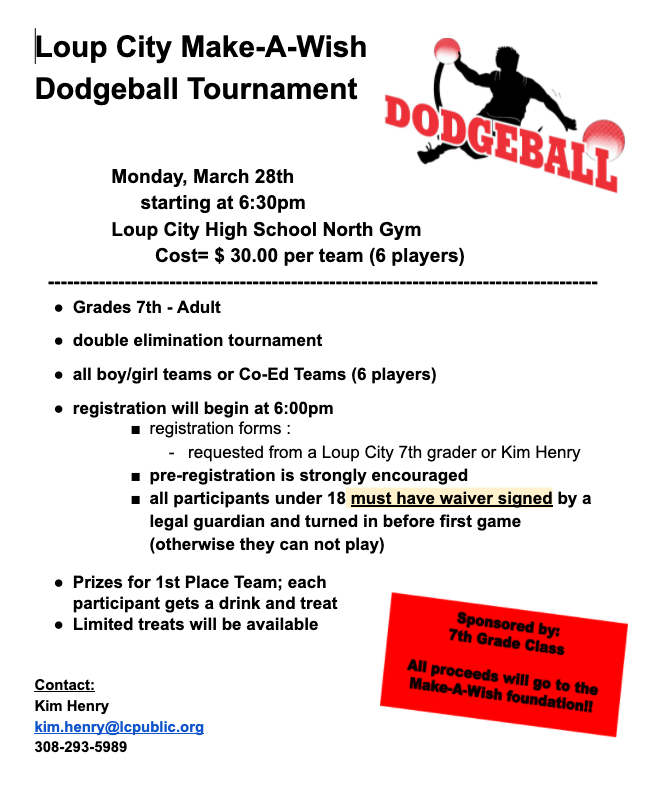 March 21-26, 2022 kicks off Nebraska's Severe Weather Awareness Week. This Wednesday, March 23 at 10:00am CT is the statewide tornado drill and Loup City Public Schools will be participating. While severe weather can be scary for kids (and adults) we ask that you please visit with your children about your plan at home, should you need to seek shelter. Here is a helpful website to follow as you prepare or review your severe weather action plan:
https://www.childrensmercy.org/parent-ish/2021/03/tornado-safety/
Please help us prepare to keep all of our kids safe during severe weather at school and at home!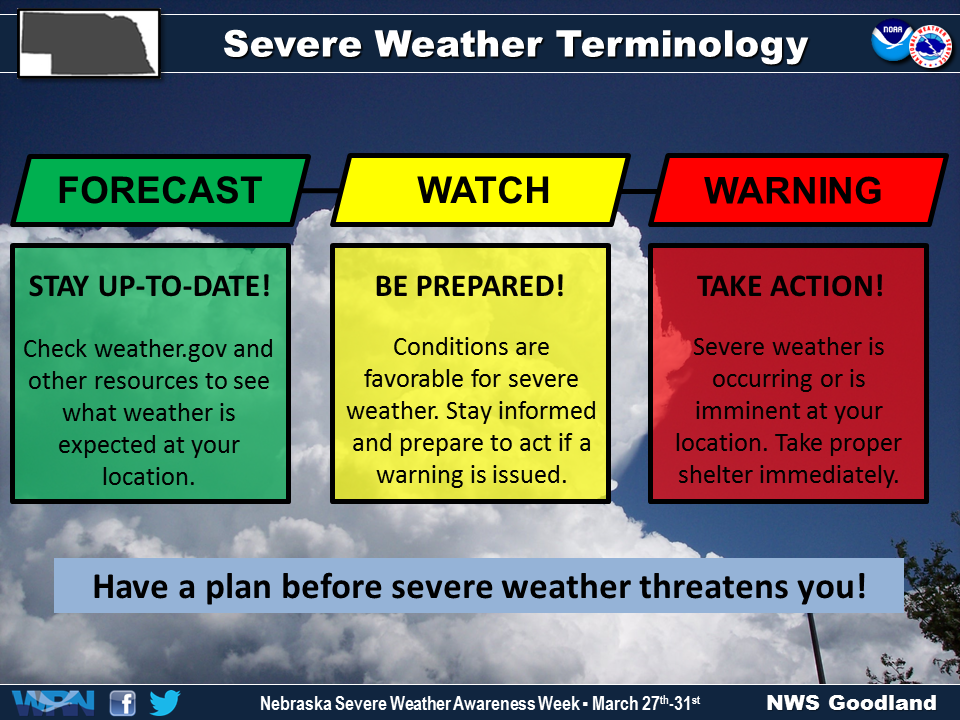 LouPlatte Conference Band preformed Saturday, March 19, 2022 in Ord. They sounded amazing!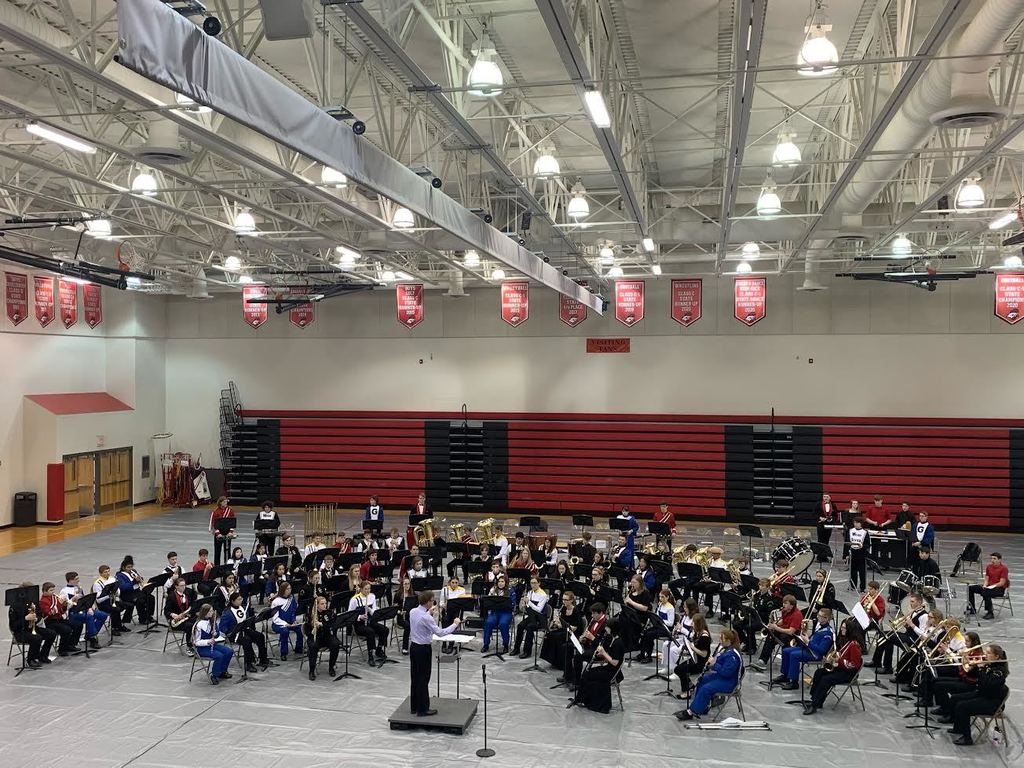 Congratulations to the State Speech medalists- Camie Fulton- State Runner-Up Extemporaneous Speaking Cameron Russell and Ellie Oxford- State Champion Duet Acting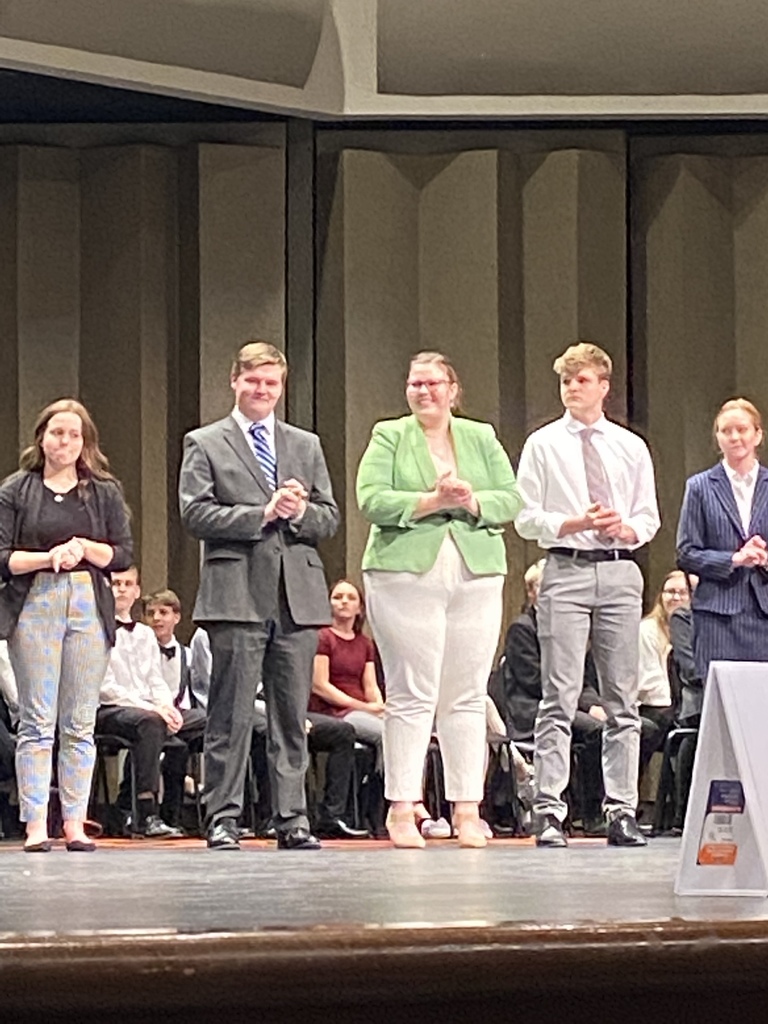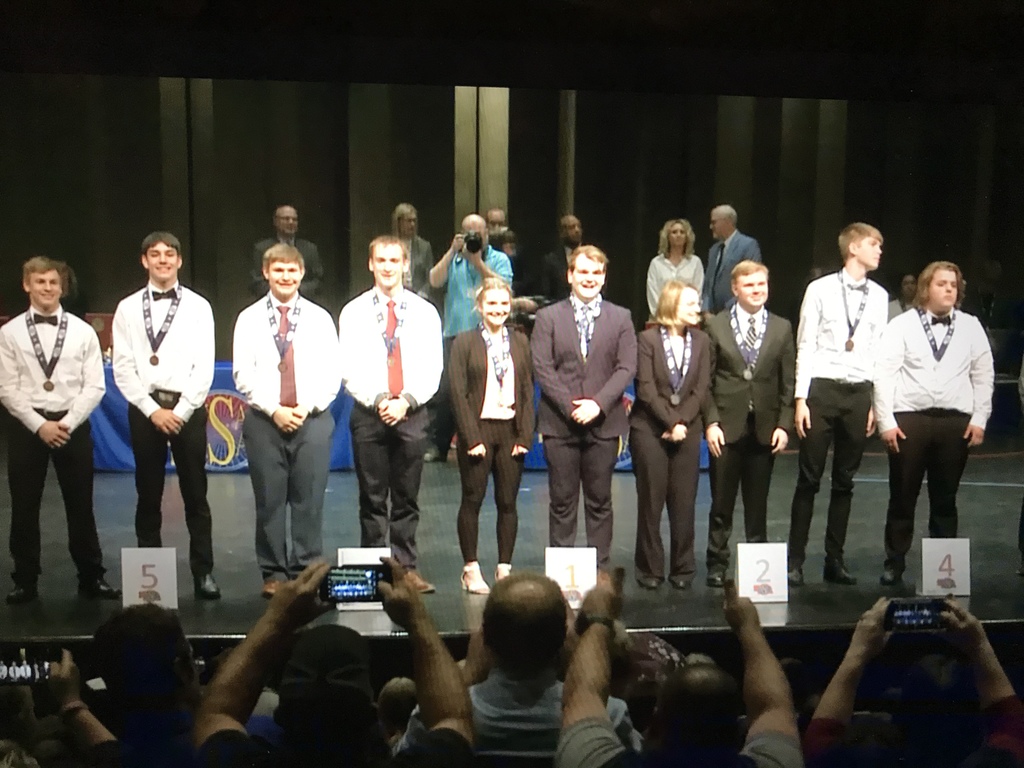 Yesterday we hosted our first Loup City Public Schools Career Day! Businesses and colleges were invited to speak with 7-12 students about their careers or college. Thank you to all of those individuals who volunteered time out of their days to speak with our students!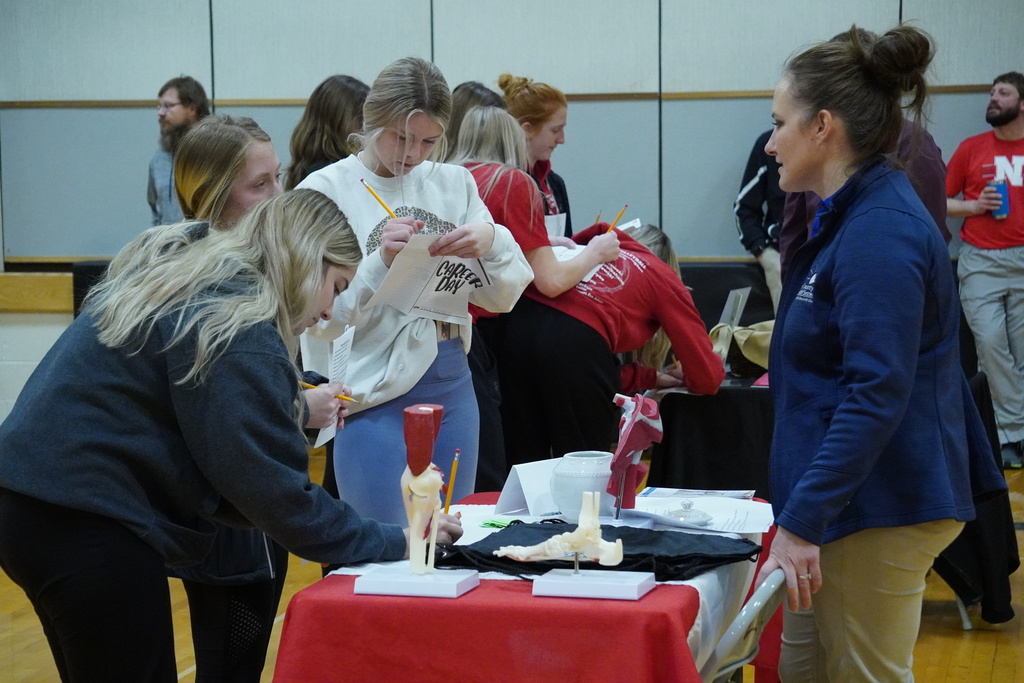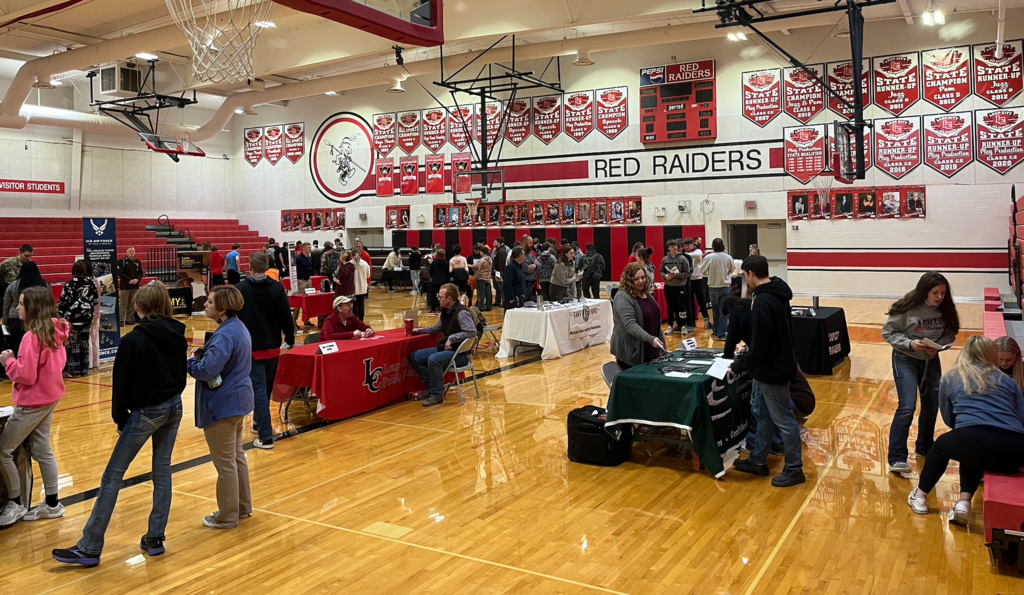 After Career Day yesterday, students celebrated Pi Day and the end of quarter with "minute to win it" activities!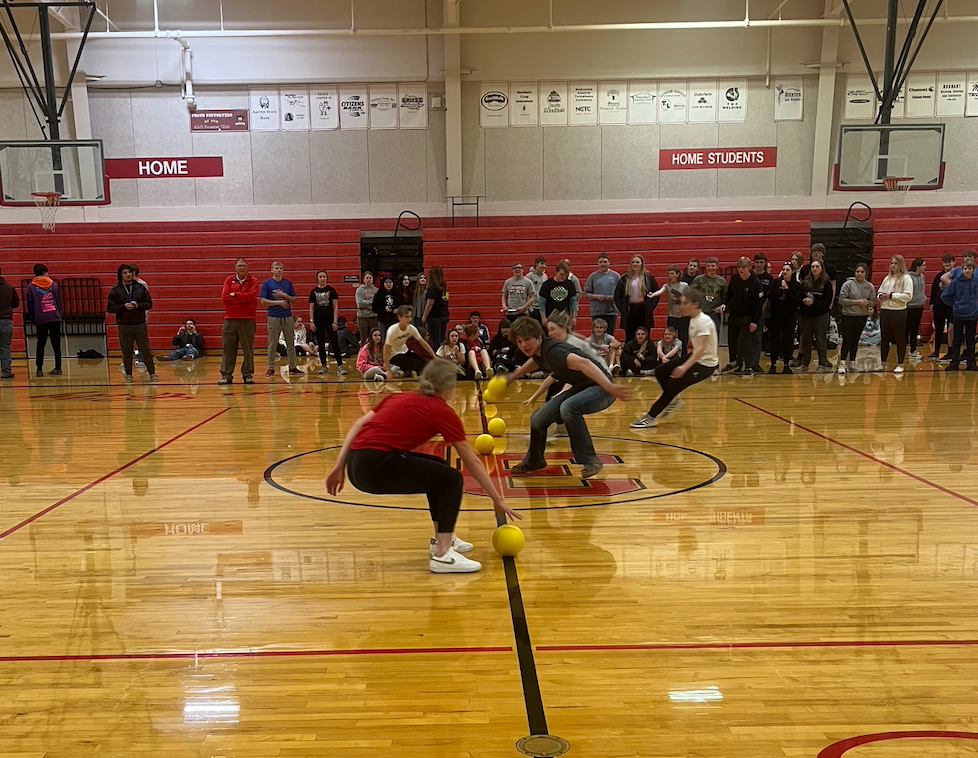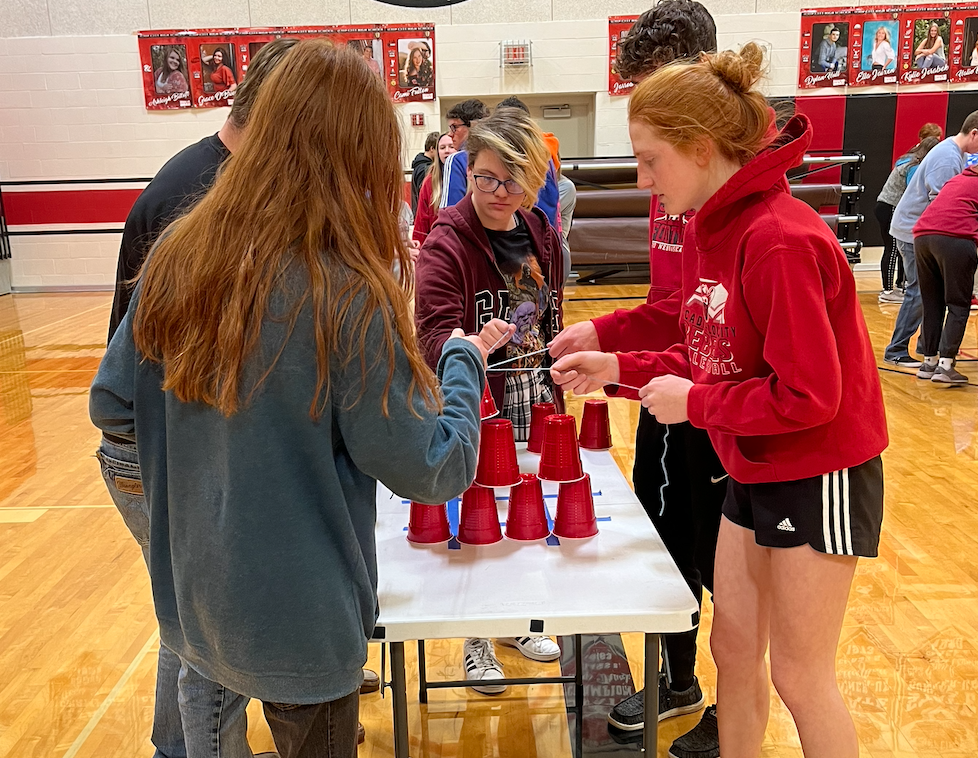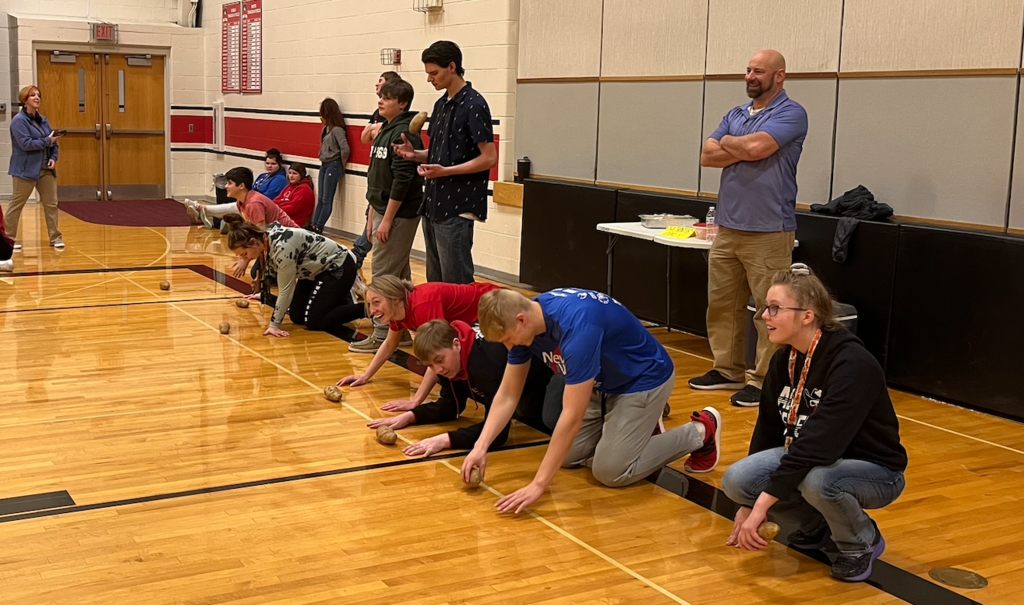 Red Raiders competed at the ESU Regional Science Olympiad today. There were 24 teams in their division and they placed in several events! Cameron and Chase placed 2nd in Astronomy, Alex and DeLynn placed 3rd in Ping Pong Parachute, Landri and Danica placed 4th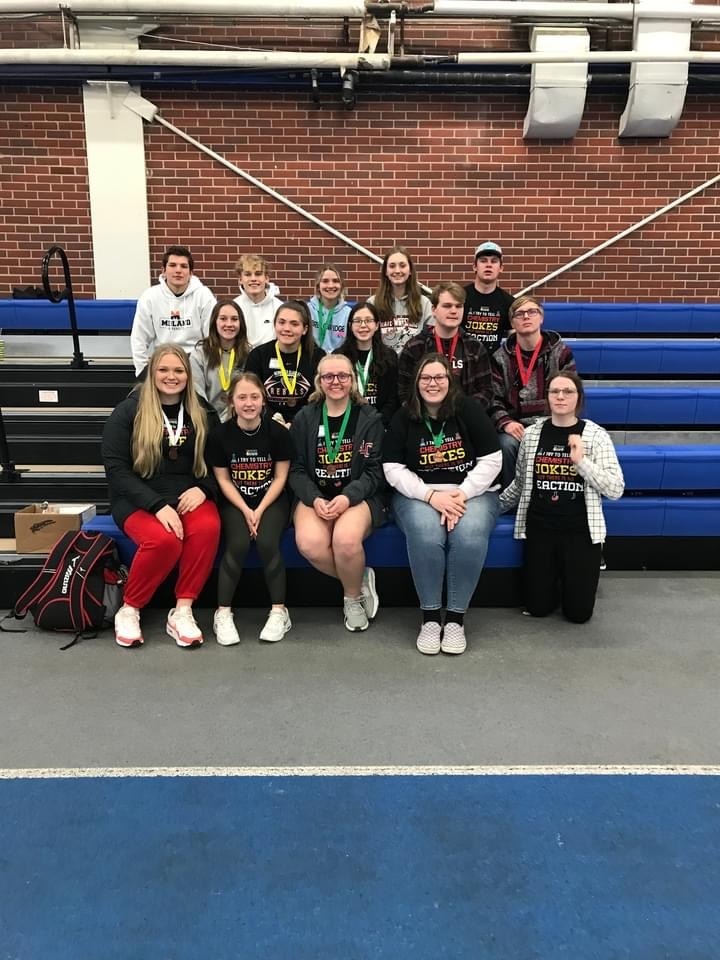 Kindergarten Registration We are looking forward to meeting you on March 22nd. If you are unable to attend, please call the Elementary Office at 745-0603.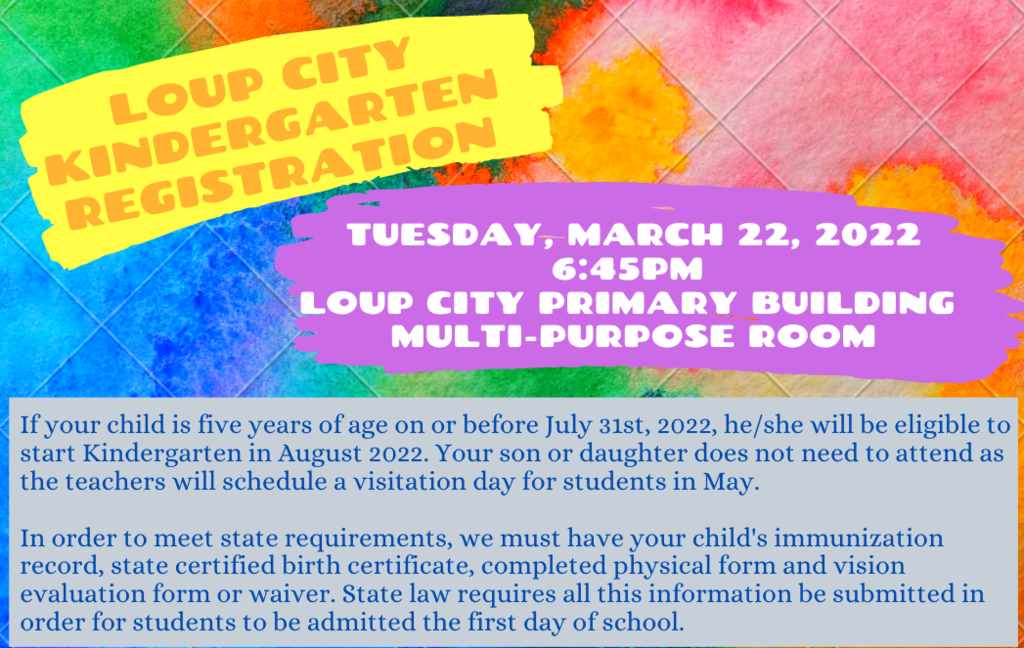 Reminder: Loup City Public Schools will have no school on Friday, March 11, 2022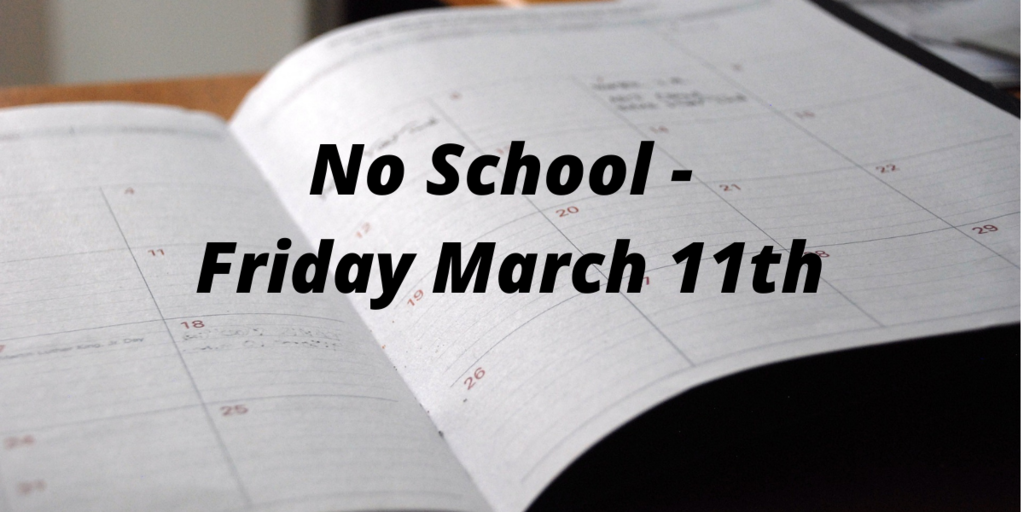 Due to impending bad weather and deteriorating road conditions, the Loup City ASP Program will be closing today at 5:00pm. Please make arrangements to have your child picked up. Thank you for you cooperation and understanding.

The Central Region Envirothon was held on Tuesday, March 1 at CCC in Columbus. Four teams from Loup City competed in the event. Each team, which consists of five members, completed seven tests on the following topics: range, wildlife, forestry, range, aquatics, special topics and policy. Loup City Team #1 (DeLynn Day, Cami Fulton, Kylie Jerabek, Cody Markus, Alex Rodriguez) finished in 2nd place, and Loup City Team #2 (Dylan Hull, Ella Jaixen, Landri Loos, Ellie Oxford, Chase Stieb) finished in 3rd place. Both Team #1 and Team # 2 have qualified for the State Envirothon, which will be held on April 27 at Camp Comeca (by Cozad.) Other students competing in the event were Danica Heil, Luke Heil, Prestyn Rogers, Jessica Stieb, Mallory Tuma, Aleia Friesen, Eva Jaixen, Oliva Fitzgerald, Natalie Wardyn and Zoe Wardyn.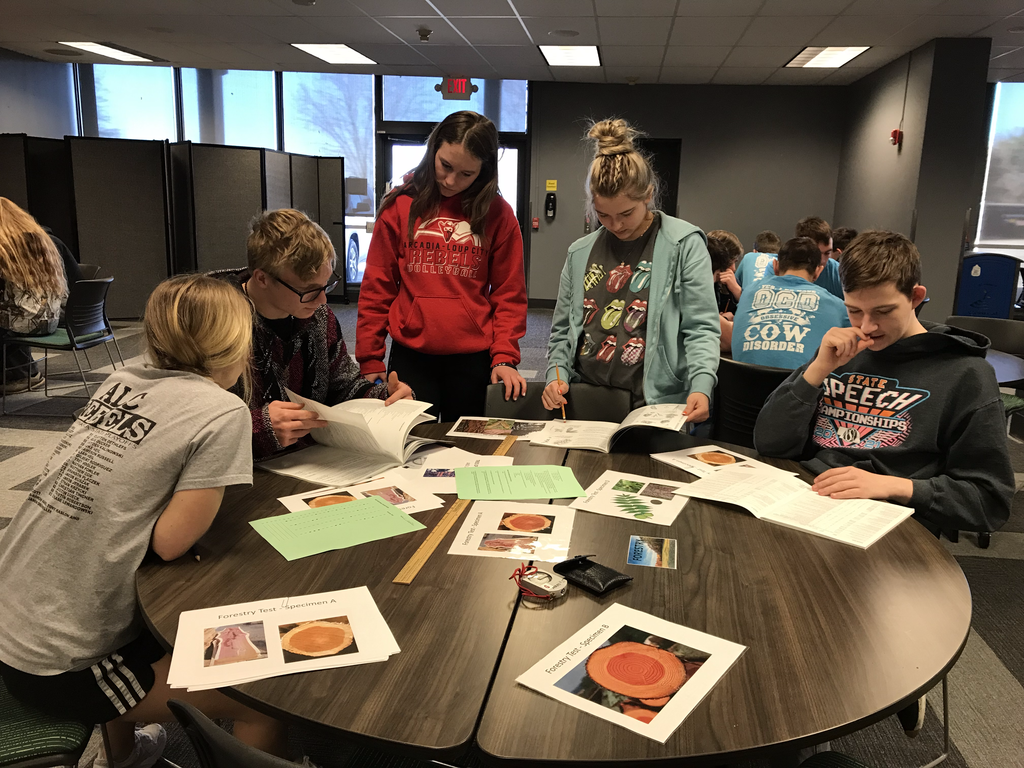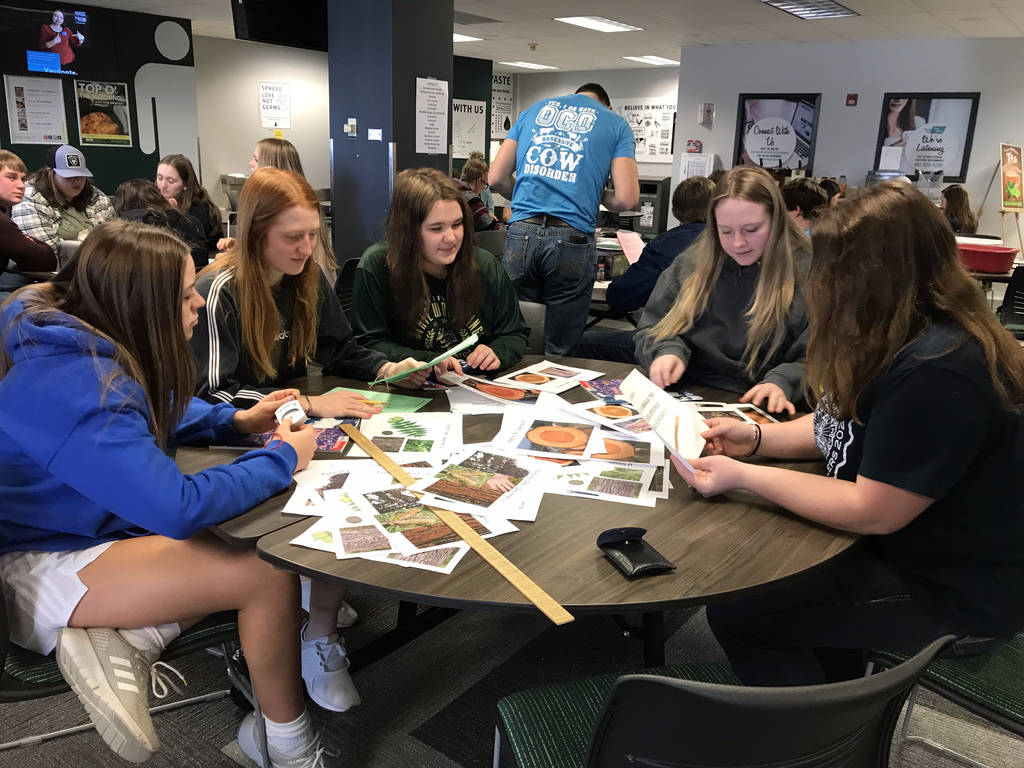 Congratulations to the LC Speech team and Coach Kyle Knaub on claiming the C2-5 District Championship! Good luck at State: Ellie Oxford ,Cameron Russell ,Bailey Kuehl, Cami Fulton, Dylan Hull, Ella Jaixen, Hailey Rademacher, Gracelyn Paddack, Chase Stieb and Landri Loos.