One Year Later
Angela Simpson
Tuesday, March 16, 2021
I have thought a great deal about the happenings of one year ago today. It started with a few school districts in our area choosing not to be in school for an extended spring break or for a week to help keep our students and staff safe from a pandemic virus we knew very little about. But by the end of the day we would have our school world turned topsy turvy!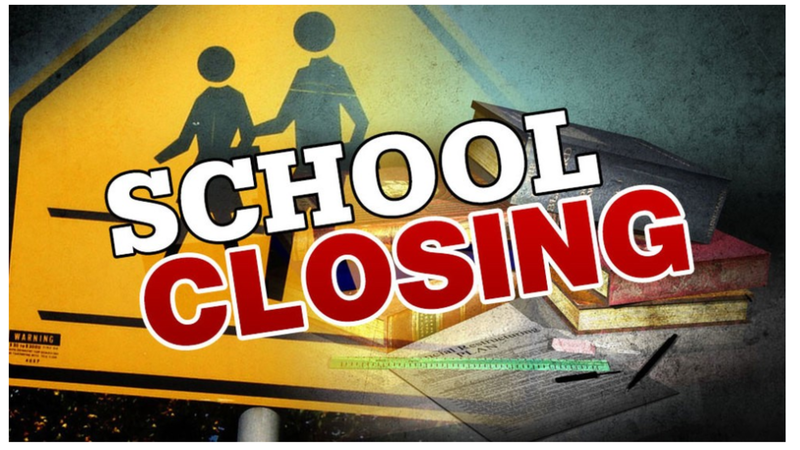 School administrators were asked to be part of a webinar with the Commissioner and Governor to discuss the pandemic. It was then that we were told that all schools would be closing by Friday, March 20 and it was best to close as soon as possible. Unfortunately, that is what we all knew as "school" changed and the uncertainty for all of us began.
In the next 48 hours the school district staff learned how to use Zoom, created an all electronic and digital classroom assignment and assessment system, created learning packets, learned how to teach from home, created new bell schedules, redesigned menus and found ways to deliver meals to all of our communities, and applied for grants and programs to meet our needs. The school board met in Zoom for the first time to take necessary action to offer education and programs to our students that would allow us to be successful in the unanticipated temporary closure. Our parents began to scramble for what they would be able to do to have kids not only at home, but also to help them with their learning. I was very proud of our community working to find solutions to help our students continue to learn.
Then on March 25th the news we had been anticipating came and we were told that we would not continue with our school year until after May 1st if at all. The focus of our staff became to get what we needed to help our students be successful and to make this experience bearable.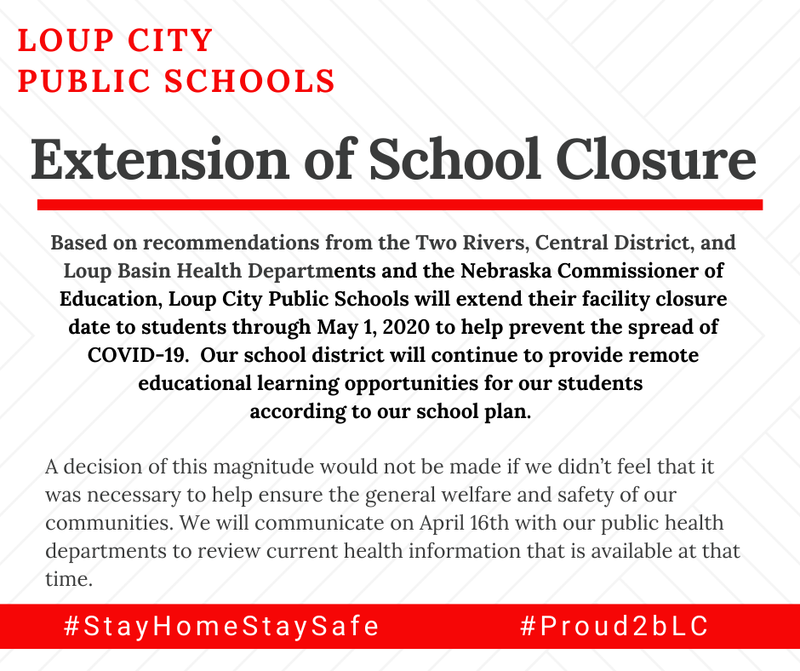 On May 20th we ended our crazy school year and we began working on plans to reopen the school buildings in the fall of 2020, not sure yet that we will be allowed to do so. We created committees with our community members to create plans and began organizing for school opening in-person or remotely.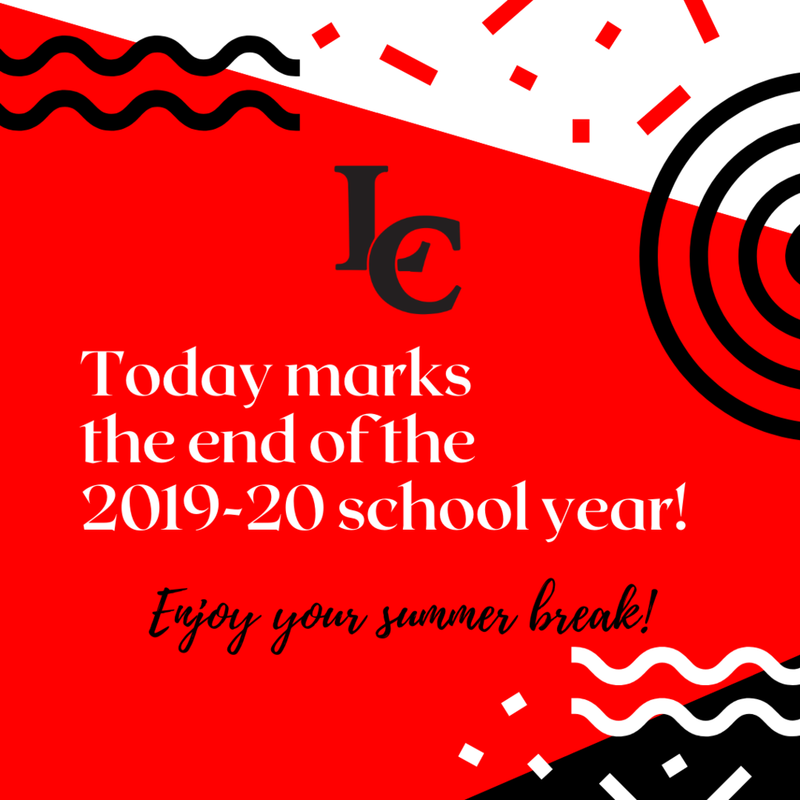 On July 18th, a group that had so many milestones still in their path was finally able to graduate from Loup City Public Schools. It wasn't traditional, it was very relaxed but each of them received a diploma and was able to formally end this chapter of their life. It was a rocky road but they were able to "Git 'R Done."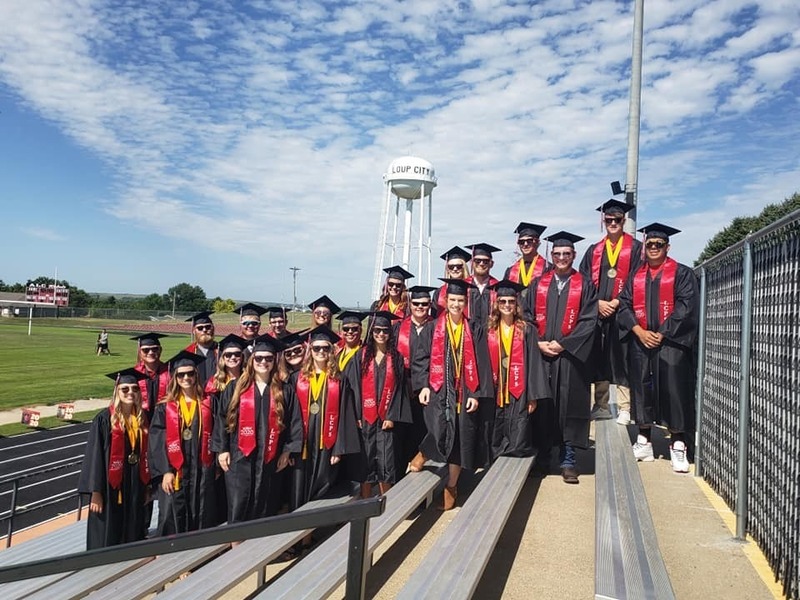 On July 15th we were able to announce that we would return to school, on time, and in-person. Our plans were taking shape and we were ramping up to start our journey back to normal school.

On August 13th, after 150 days of closure we opened our doors and began learning in a new environment with new protocols, lots of desk cleaning, wearing masks, less people at lunch tables, 6 feet between us, elbow bumps and lots of cleaning.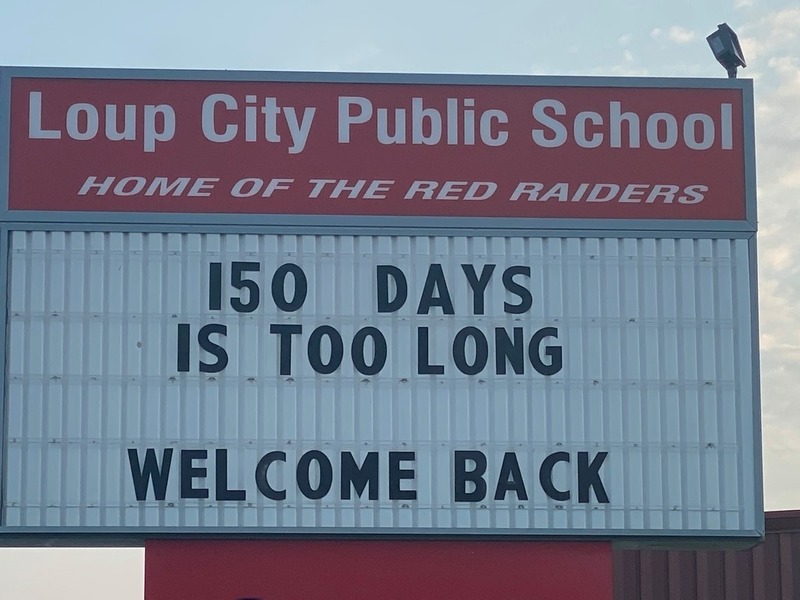 This year has been a year of struggles and celebrations. I am so proud of our students and our staff. We have accomplished a great deal and I think we definitely found out that we are better when we communicate and work as a team. Thank you to our staff, students, board of education and community for being part of making in-person learning possible at Loup City Public Schools.